Your B2B has ambitious revenue goals this year—but if lackluster leads and sluggish sales are putting a wrench in those plans, it's a sure sign there's a problem with your customer acquisition funnel. You can fix this, but first you need to pinpoint what's wrong.
Traditional top-of-funnel customer acquisition strategies are out of sync with modern business models and out of touch with modern B2B buyers. In this article, I'm going to introduce you to the new, smart way to generate leads for your B2B organization to improve lead quality and increase revenue. But first, let's start with what the traditional B2B customer acquisition process gets right.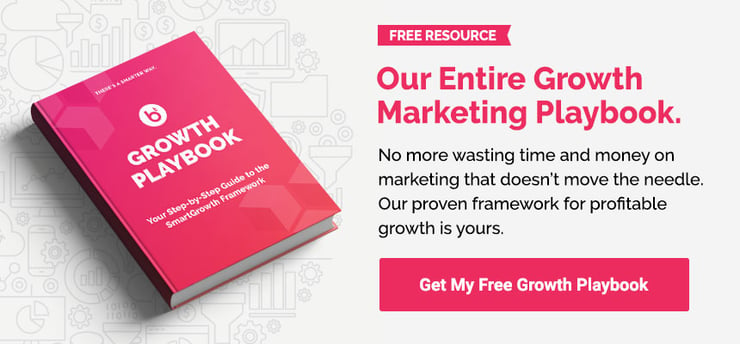 The traditional B2B customer acquisition funnel
Traditional B2B lead generation tactics are customer-centric. For example, account based marketing begins with identifying your ideal customer and focusing on gaining their attention and business.
Focusing on your buyers and understanding their unique pain points is an essential first step toward building a profitable funnel. Sales teams that get to know their customers and invest in building relationships with them are highly effective. But fielding a large, knowledgeable sales team can make scaling difficult.
Businesses, large and small, still rely on one-to-one customer acquisition strategies to fill their pipeline and close deals. Even before the world went digital-first because of the pandemic, though, many B2B companies and their buyers favored alternatives.
Traditional B2B lead generation practices don't meet modern B2B customer expectations
In the modern B2B marketing ecosystem, sales teams are no longer in charge of the discovery process, and marketing teams are responsible for much more than driving awareness and leads.
Digital marketing, along with access to information from third-party sources such as review sites, online industry publications and niche blogs and podcasts, makes much of the B2B buyer's journey a solo one. According to a 2020 survey, 87% of B2B buyers want self-service options to manage all or part of their buyer's journey. More than 3/4 of B2B purchasers want access to self-service buying options all or some of the time.
Despite this shift toward self-service, though, B2B buyers still expect sellers to have a customer-centric approach. B2B decision makers accustomed to integrated, personalized interactions from B2C brands expect the same from their B2B partners.
Meanwhile, B2B marketing teams' priorities and KPIs have shifted from generating marketing qualified leads (MQLs) to generating revenue. Among B2B marketing professionals responding to a recent survey, 67% said driving revenue was their primary responsibility. Top-performing marketing teams are even more focused on the bottom line (and bottom of the funnel) with 86% saying driving revenue was their primary responsibility.
What does this mean for business? It's time to update your B2B marketing playbook. Your new B2B customer acquisition funnel must meet the customer where they are at every stage in their journey, be performance-driven and scalable.
Upgrade your B2B customer acquisition funnel with a growth marketing mindset
A customer acquisition funnel built on growth marketing principles incorporates the benefits of the traditional sales funnel's customer-centric approach with data-driven strategies.
Growth marketing is a strategic framework that employs continuous measuring, testing and improving to limit losses caused by guesswork and inefficiency.
By following the growth marketing framework, B2B businesses can create a customer acquisition funnel that is effective and efficient–increasing not just leads and revenue but long-term ROI and exponential growth.
6 stages of the growth marketing customer acquisition funnel:
Awareness – Taking someone from no knowledge of your brand to recognition

Acquisition – Moving the aware buyer to an interested prospect (a marketing qualified lead or MQL)

Activation – Nurturing the prospect's interest and converting them to a sales qualified lead (SQL)

Revenue – Converting an SQL into a customer

Retention – Nurturing the customer relationship to gain upsells, cross-sells and resells

Referral – Converting the customer into a brand advocate that feeds your sales pipeline via referrals and recommendations



How can a growth marketing framework help you shift your mindset and upgrade your B2B sales funnel?
Begin with the end in sight. Achieving growth for your business starts by defining what growth looks like and identifying the objectives that fuel it. It focuses your attention away from metrics that give the appearance of growth and toward those that show real revenue-boosting results. For example, instead of pursuing email sign-ups or website visits, growth KPIs measure customer acquisition costs, conversions, and churn rates.


Revenue-focused prioritization. Every stage of your buyer's journey is important. But not every stage will afford you the same opportunities for growth. When you prepare a growth marketing strategy, you'll conduct a situational analysis to identify the potential for gains and the sources of bottlenecks at every stage of the funnel, then focus your efforts on the areas of greatest impact.


Resolve inconsistencies before you build. B2B buyers are omni-channel content consumers. Inconsistent messaging or messaging that doesn't address your buyer's state in the funnel will fall flat with this savvy audience. The growth marketing strategy addresses this problem by prioritizing audience identification and message clarification before you begin building your marketing assets.


Invest in data-driven strategy, not impulse. Marketing has always been both an art and a science. But investing time, talent and money in an untested idea can setback your efforts by a year or more. Meanwhile, your prospective customers and competitors will move on without you. A core component of a growth marketing strategy is to look before you leap. Identifying the most effective tactics and marketing channels for long-term revenue and growth before you invest.


Modernize your B2B acquisition funnel and take control of your growth
Growth marketing empowers you to drive growth while mitigating risks with a systematic approach to marketing that delivers sustainable, repeatable results. This is the secret to scalability. Are you ready to abandon random acts of marketing and build a customer acquisition funnel that delivers lasting ROI? Book your one-on-one SmartGrowth Session today to discover how to fix your funnel and grow your business.