Growth marketing agencies, demand generation companies and digital marketing consultants of all kinds promise to "help grow your business" with their services. For business owners with limited marketing experience, however, identifying the right solution can feel like a big guessing game.
Is there a difference between growth marketing vs. demand generation? Are they just two marketing industry buzzwords that mean the same thing? Or, are there important distinctions to consider before making a strategic investment in your business' growth?
This article will answer these questions and more, so you can confidently choose the marketing solution that best aligns with your company's growth goals.
---
Growth Marketing vs. Demand Generation: What is the Difference?
To fully appreciate the difference between growth marketing and demand generation, you'll want to first understand what they have in common.
Growth marketing and demand generation both focus heavily on the concept of the customer acquisition funnel, or pipeline.
The "pipeline" refers to the journey a stranger takes on their path to becoming a customer. From a business' perspective, it represents the flow of potential revenue.
The stages of the customer acquisition pipeline are:
Awareness: from stranger to website visitor
Acquisition: becomes a marketing qualified lead (MQL)
Activation: becomes a sales qualified lead (SQL)
Revenue: becomes a customer
Retention: becomes a repeat customer
Referral: new customers referred by existing customers
While demand generation and growth marketing both work to improve the flow of potential customers into and through the pipeline, they don't do it in quite the same way.
Demand generation tends to focus on fueling the pipeline. That means earlier stages like Awareness, Acquisition and Activation get most of the attention.
Growth marketing takes a holistic view of the entire pipeline. Every stage, from Awareness to Referral, plays a role in impacting revenue growth.
With those two approaches in mind, let's dive deeper into the differences between demand generation vs. growth marketing.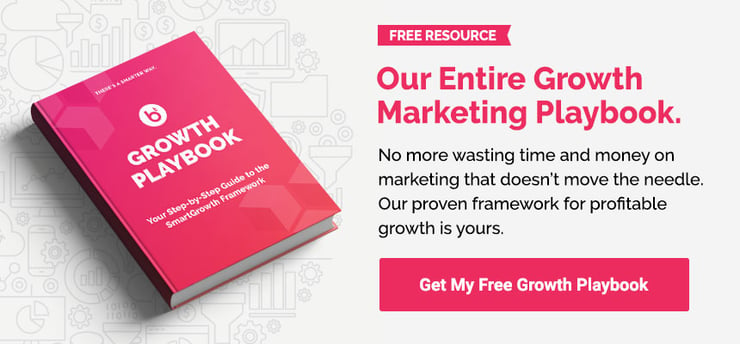 What is Growth Marketing?
Every growth marketing definition mentions a "full-funnel" approach to revenue growth, but what does that really mean?
In practice, smart growth marketing is a disciplined combination of art and science. It's the art of using the right messaging to move prospects forward at every stage of the funnel (or pipeline), along with data-driven testing that continuously optimizes that movement. The more efficiently the entire pipeline flows, the more profitably a company can grow.
Growth marketing often begins by identifying 3-5 year revenue growth goals, and reverse-engineering a strategy to achieve them.
Growth marketing is a powerful approach that aligns with companies of all types, but it is particularly well-suited to complex B2B sales with large purchases, multiple stakeholders and a longer decision making process.
---
What is Demand Generation?
Demand generation is a data-driven strategy to build awareness and generate high-quality leads in the early stages of the customer acquisition funnel.
Demand generation objectives can include later stages of the funnel, like Retention and Referral, but most often focus on "creating pipeline." That means filling the funnel with the lead volume (and quality) needed to achieve short-term sales goals, rather than optimizing it for sustained, long-term growth.
Demand generation synonyms, such as B2B demand generation and demand generation B2B marketing, reflect the popularity of this approach with B2B companies – particularly those with large sales teams and high monthly sales volume that rely heavily on B2B lead generation.
---
Comparing Tactics: Growth Marketing vs. Demand Generation
Growth marketing tactics and demand generation tactics are nearly identical. Both draw from the same toolbox of inbound marketing activities and channels. Both can also include outbound marketing tactics like paid advertising.
The main difference? Because growth marketing typically spans the entire customer acquisition funnel, it relies on additional tactics to nurture leads and improve sales, retention and referral metrics.
Demand Generation Tactics Include:
Search engine optimization (SEO)
Blogging
Lead magnets
Conversion rate optimization (CRO)
Paid ads
Social media engagement
Podcasts
Webinars
Live events - trade shows, conferences, industry events
Account Based Marketing (ABM)
Influencer marketing
Direct mail
and more
Growth Marketing Tactics Include:
Search engine optimization (SEO)
Blogging
Lead magnets
Conversion rate optimization (CRO)
Email nurture campaigns
Sales enablement
Customer onboarding
Loyalty programs
Referral programs
Net promoter score (NPS)
Paid ads
Social media engagement
Podcasts
Webinars
Live events - trade shows, conferences, industry events
Account Based Marketing (ABM)
Influencer marketing
and more
In both cases, it's an awful lot of tactics to consider. How can you plan and execute a winning strategy with so many options? For businesses not looking to try it on their own, there are options. Let's take a look at how companies outsource growth marketing and demand generation.
---
Outsourcing: Growth Marketing vs. Demand Generation Agencies
The decision to hire a digital marketing agency of any kind is a big one, and raises lots of questions. How much will it cost? How long will it take to get results? What if it doesn't work? These are all valid concerns.
Whether it's a growth marketing agency or a demand generation marketing agency, however, the most valuable question to ask is: "How will you help us achieve our growth goals?" After all, if you don't hit your goals, nothing else matters.
Companies looking to outsource demand generation or growth marketing won't find anything inherently different in agency structure, costs or capabilities. Instead, agencies in both camps will be set apart by their individual methodologies. A winning strategy is far more valuable than an impressive client roster, awards, or a portfolio of pretty work.
Look for an agency with a structured growth marketing framework or demand generation framework. A framework is a systematic approach to results that has often been battle-tested, with proven results. Avoid agencies with generic strategies, like a repeating monthly menu of marketing tactics.
Agency or consultancy: What's the difference?
A growth marketing agency and a growth marketing consultancy will both have the same growth marketing skillset. Just as a single demand generation specialist and a demand generation company will have the same tools at their disposal. Again, it's strategy – how they plan and execute – that matters most. That can vary wildly from one outsourced team to the next.
---
The Key to Success: A Smart Growth Marketing Framework
Growth marketing and demand generation share many of the same tactics and objectives. Some marketers would even consider growth marketing to include demand generation in its top-of-funnel strategy.
At the end of the day, what matters most is having a comprehensive strategy that aligns all of your marketing and sales activities with your revenue goals. With a smart growth marketing framework, you'll eliminate the costly guesswork that plagues so many businesses, and have a clear path to scaling profitably, predictably and sustainably.

What does a smart growth marketing strategy look like? Find out by scheduling a 30-minute, no-pressure SmartGrowth Session and get a free plan customized for your business.