As the shift to a digital first economy reaches its peak, B2B buyers are flocking online to conduct independent research before making a purchase decision. Is your SaaS prepared to deliver the information they're looking for? Developing content to meet the needs of decision-makers at each stage of the buyer's journey can be complicated and time-consuming. A SaaS content marketing agency can meet your growing need for informative, engaging content to meet rising buyer demands. Here's how they do it.
What is a SaaS content marketing agency?
Marketing services providers come in a lot of different shapes and sizes—from giant, full-service marketing agencies to single-service, one-person shops. Content marketing agencies sit somewhere in the middle of the marketing services range. Like a single provider, they offer a limited set of services, specializing in content management and production. But, because they operate as an agency, they have multiple team members and contacts to call on to meet clients' needs.
A SaaS content marketing agency, as you may have guessed, is a content marketing agency that has elected to specialize in managing and producing content for SaaS companies. This narrowed focus enables the agency to concentrate its resources, nurture relationships in the SaaS community, and develop greater subject matter expertise than a general content agency.
With fine-tuned knowledge of content marketing and the unique characteristics of the SaaS marketplace, a SaaS content marketing agency delivers efficiency and effectiveness for brands that don't have the resources or desire to manage all of their content needs in-house.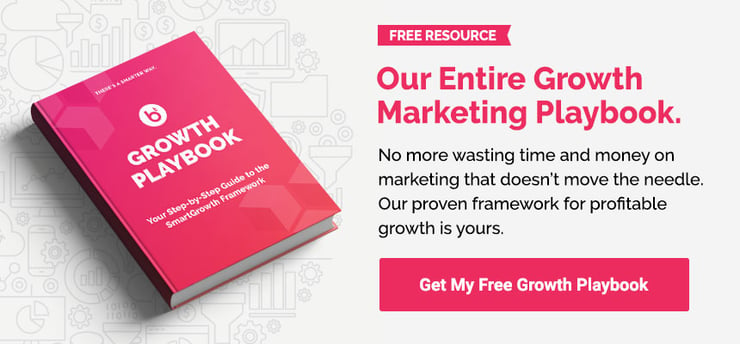 How does a SaaS content marketing agency deliver efficiency and effectiveness?
When you think of marketing content, what first comes to mind might be the type of content your SaaS publishes. Or, perhaps it's the kind of content you've consumed from other brands. Indeed, the term "content" can be broadly defined, making an effective SaaS content strategy difficult to nail down.
A blog strategy is essential for B2B SaaS content. Social media posts are, too. SaaS websites, lead magnets, and emails are all core content. So are flyers and printed advertorials.
The reality is, there are a lot of different ‌forms of content out there. A SaaS content marketing agency is familiar with them all.
SaaS marketing content includes:
Blogs, articles and guest posts
Websites and landing pages
Paid ads
Videos and webinars
Case studies
Buyer's guides
Templates and checklists
Infographics
Social media posts
Emails and newsletters
One-pagers and brochures
Podcasts
Ebooks
Whitepapers
Knowledge bases and FAQs
Tutorials
A word of caution, though. Many "SaaS content marketing agencies" are solely content producers. They can provide the tactical execution of your content strategy, but don't necessarily align it with your company's big picture goals. If your SaaS is like most, exponential growth and maximum valuation are the primary objectives—and you'll want an outsourced growth team who specializes in a complete growth strategy.
A SaaS content marketing agency does more than create content
A full-service SaaS content marketing agency will develop high-quality content for your market, based on a comprehensive customer acquisition strategy. Each piece of content represents an investment targeted at raising awareness about your SaaS, building your brand's trust and credibility, educating your audience, supporting your sales team or otherwise contributing to your core business objectives. Content helps bring prospects into your customer acquisition pipeline and keeps them moving through it.
The best SaaS content marketing agencies can also provide you with tracking and analytics to gauge the performance of your content marketing strategy and suggest and implement improvements. You'll benefit from your agency's knowledge of marketing metrics and their access to advanced analytics tools.
Should you consider a content marketing agency if you already have a marketing department?
In the SaaS marketplace, opportunities come and go fast. Your brand must be prepared to meet prospects with the right content at the right time to keep them moving toward the next stage in their buyer's journey.
According to a 2021 TrustRadius report, 51% of B2B buyers said that visiting the vendor's website was their #2 choice for learning about technology products, second only to product demos. Meanwhile, a McKinsey survey found that 99% of B2B buyers are willing to use an end-to-end digital self-service model to make business purchases.
It's no wonder then, that organizations responding to a 2021 B2B digital marketing survey ranked content marketing second only to social media in terms of effectiveness at driving revenue and 44% stated that they would increase their content marketing budget in 2022.
A SaaS content marketing agency can help you keep up with the competition and meet buyers' expectations by deploying content quickly and at scale either as a fully-outsourced content team or by supplementing the capacity of your in-house content team. Additionally, your content agency can work with your in-house team to build your content production and analytics infrastructure.
Partner with a SaaS content marketing agency to deliver what your B2B buyers want
When choosing your content partner, look for an agency that understands the SaaS marketplace and can provide reliable, quality content. Ask questions to find out how the agency will develop your content strategy, who will write your content and how the agency measures success. Be prepared to share your brand's objectives and the time frame in which you hope to achieve your goals. Then, work with your content agency to create unique content that demonstrates your brand's value and expertise to buyers at every stage.

Brand Theory develops high-growth marketing strategies for SaaS brands and delivers the content they need to implement those strategies. To find out more, book a one-on-one SmartGrowth Session with us today. In 30-minutes you'll discover how to build a repeatable, profitable, customer acquisition system for your B2B SaaS, and you'll leave with a free growth game plan. Don't lose a year—or more—to guesswork with random acts of content marketing. It's time to grow smarter.