If you're investing in modern marketing tools in hopes of harnessing data to accelerate growth, you're not alone. Metrics, KPIs, dashboard analytics ... they're all the rage, and with good reason. The more you know about the health of your business and its operations, the more you can identify opportunities to improve and navigate challenges, right? Well, you know what they say about too much of a good thing.
With so much data, it's no wonder business owners, CEOs, and other stakeholders routinely suffer from analysis paralysis, or the inability to turn all of that quantitive information into decisive action. Which begs the question, "Should we be measuring everything, all the time?"
Perhaps the better question is, "What should we be measuring at this point in time?"
There are, in fact, several questions you should ask before unleashing your data collecting powers on the world. In this article, we'll explore them in depth—the marketing metrics questions every business needs to ask before investing time, money, and resources in a marketing campaign.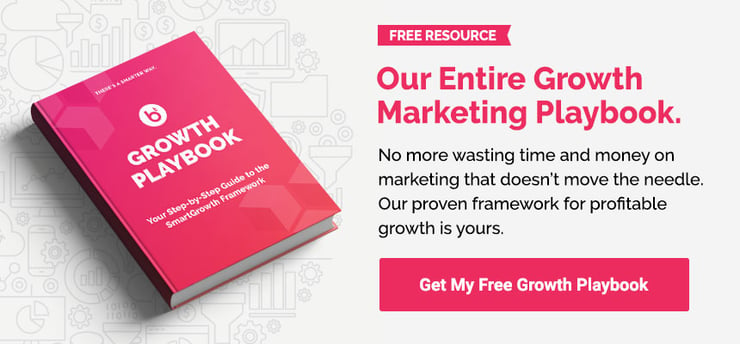 Your data is the key to developing smart goals for your growth marketing strategy
Since marketing entered the digital age, the amount of data available to marketers has grown exponentially. Today, your business can tap into external information about markets and competitors, and internal data for every part of your marketing and sales funnel.
Marketing teams can now track annual and quarterly performance, individual campaigns and even single customer interactions like never before. Your inbound and outbound marketing metrics can tell you which tactics or strategies have delivered the desired outcome and which fall short.
But, this data isn't useful only as an indicator of past performance. It can also guide future strategy. For example, a sound growth marketing strategy always begins with understanding your current situation.
You must know where you started to know if you've made progress
Growth marketing is a data-driven approach to marketing that aims to maximize revenue at every stage in the customer acquisition funnel. To ensure you're always focused on the right part of the funnel, each tactic you employ as part of a growth marketing strategy has a purpose backed by data from previous campaigns.
External benchmarks may offer you a hint of what to expect from your next marketing effort. But they can't compare to the inside knowledge you can gain by looking at your own metrics. This is why asking the right marketing metrics questions before you begin is so important. By establishing the right "baseline" metrics, you'll know which numbers need to move, and will have a point of reference when they do.
Knowing your past performance metrics gives you the ability to set reasonable, data-backed objectives with achievable goals for future growth marketing campaigns. They tell you exactly how your customer acquisition efforts are performing and what areas represent the biggest opportunities for improvement.
When planning a new marketing campaign, ask the following questions in order to set the right goals and define the right success metrics:
What stage of the buyer's journey should this campaign target?
What KPIs will give us the best understanding of our campaign outcomes?
What is the minimum success criteria for this campaign?
What gaps does this campaign need to fill in our customer acquisition funnel?
Did our previous campaign's KPIs reveal an untapped opportunity that we can maximize in our next campaign?
Gathering this critical information before you launch your campaign will allow you to set targeted goals and track progress toward them with the right KPIs. Asking the right marketing metrics questions will also help you avoid wasting time and resources focusing on the wrong marketing activities.
When used as a planning asset, your marketing metrics become a tool of continuous improvement, helping you concentrate on moving the needle in the right places, set achievable goals with each new campaign, and eliminate gaps in your customer acquisition funnel.
Marketing metrics questions for each funnel stage
Every stage in your customer acquisition funnel is a potential source of information that can fuel improvement. For instance, at the awareness stage, the source and number of website visits is a telling metric. At the acquisition stage, metrics such as click-through rates, lead magnet downloads and time on page are key indicators of marketing performance. Are your leads moving forward on your intended conversion path? Additional marketing metrics, such as MQL to SQL conversion rate and opportunity counts, become relevant at the activation stage.
Conversions are a crucial metric at the revenue stage of the customer acquisition funnel as well, but it's not the only metric to track for growth marketing performance. You'll also want to consider average order values (AOV) and its relationship to customer acquisition costs. Are your acquisition channels sustainable?
Growth marketing doesn't end with the first sale. So metrics that track additional revenue from your acquired customers is of strategic value as well. How much revenue is generated from upselling or cross selling? What is your current customer lifetime value (LTV) and how many years do you keep a customer on average? Finally, to determine how effectively you have leveraged the value of the goodwill you've generated with your customers, look at your net promoter score (NPS), third-party reputation and review ratings and social sentiment analysis.
Use this information to identify your next steps. For example, if your data tells you that 90% of your website visitors leave within a few seconds of arrival, you may need to shore up your landing page. If visitors are spending significant time browsing your site but fail to take the next conversion action, it's time to examine your offer and call to action. Similarly, your email engagement metrics can tell you which messages are resonating and which are falling flat. You can then use A/B testing to discover the fix. And, if your churn rates are high, then tracking down the cause and fixing it is essential if you hope to scale successfully.
The lesson here is to ask questions that help to prioritize your goals, so you can focus your marketing efforts—and metrics—on the right funnel stage at any given point in time. Lack of focus and excessive amounts of data will prove to be dangerous distractions.
Growth marketing combines data and strategy to create systematic processes that fuel profitable growth
Data-driven, strategic thinking is an indispensable element of an effective growth marketing strategy. When combined with up-to-date information about your market, leads, and customers, you can form a complete picture of where your business is and what you need to do to move it forward. This is the point at which real, scalable growth begins.

If you're ready to establish your business's benchmarks and begin surpassing them, book a one-on-one SmartGrowth Session today. In 30-minutes you'll discover a systematic process of goal-setting and execution, and you'll leave with a free growth game plan. It's time to grow smarter. Take the first step now.