When you first began building your B2B SaaS, product/market fit probably consumed most of your waking (and sleeping) moments. Getting that fit right, and getting it fast was the only goal, and you made it. You've reached that milestone by finding the audience your product will serve. Now, it's time to develop your SaaS go-to-market strategy.
After product/market fit, taking your product to market becomes the next, absolutely critical challenge. So, take some deep breaths, restock your pack and get ready. Here's what you need to know to attack the next summit.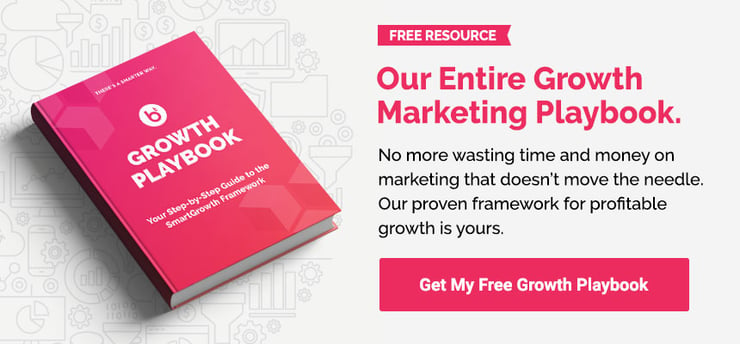 What is a SaaS go-to-market strategy?
Your go-to-market strategy is your plan for putting your product in front of the people who are most likely to become customers. This strategy brings together your knowledge of your product, customer, business model and other internal and external factors to build a single roadmap toward growing your SaaS business. Your go-to-market strategy will include some big-picture elements but also list the specific marketing channels and tactics that you'll use to achieve your objectives.
Why do you need a go to market strategy?
Wait. You've achieved product/market fit. People like your product and want to buy it. Isn't that enough to take it to market? Why spend time filling out charts and debating tactics when you could be out there taking orders and collecting money?
It may be painful to face yet another mountain to climb, but developing a clear, data-driven go-to-market strategy can mean the difference between success or failure for your SaaS. Far too many promising SaaS companies have fallen because they tried to climb too fast or without a focused plan.
Your go to market strategy is what will ensure that you maintain the momentum you've achieved and build on it.
What could go wrong if you don't have a go-to-market strategy for your B2B SaaS?
1. Investing in lead generation that doesn't lead to customer acquisition.
All leads aren't created equal, and not every one will become a customer. Are people downloading your app but never using it? Are they signing up for free trials, but never converting to paid plans? Are your offers and lead magnets reaching individuals who can actually make purchase decisions?
Your go-to-market strategy is where you'll identify those characteristics that distinguish the people who can and want to purchase your product from those who are merely interested in it.
2. Developing a customer acquisition funnel that you can't afford.
Customer Acquisition Cost (CAC) is a key SaaS metric that will drive decision making (and valuation) from this point forward. CAC refers to the average amount spent on sales and marketing for every new customer acquired.
Pay-per-click, influencer marketing and sponsored content are fast and easy ways to attract potential buyers. But, they aren't free. The strategies and tactics you employ to grow your SaaS need to do more than just pay for themselves. Reaching B2B audiences, in particular, can be a long and costly journey.
By evaluating different channels and tactics in your go-to-market strategy, you can identify which ones produce results in the most cost-effective way. The best SaaS go-to-market strategy is one that will allocate capital wisely. That means prioritizing marketing activities to ensure you're focusing on those that will contribute to efficient growth.
3. Employing strategies that don't scale.
Building in public, the founder as spokesperson, free-for-life subscriptions. They can grow interest in your SaaS and expand its user base. But for how long? The best go-to-market strategy will concentrate on building a scalable revenue engine.
Several factors impact revenue growth in a B2B SaaS model. Lead generation, sales process, and expansion and retention efforts are just a few. The best go-to-market strategy will focus on building a complete customer acquisition pipeline with the right KPIs at every stage, to spot every opportunity to impact revenue. Scaling is not the result of a single campaign or tactic, but of a perpetual, data-driven strategy to drive continuous improvement.
3 Steps to a complete SaaS go-to-market strategy
The first step to develop your SaaS go-to-market strategy is planning. This is the foundation of your entire strategy, and requires a deep understanding of the problem your buyers are trying to solve, what alternatives the market currently offers, and the many forces that will influence their journey toward a solution.
In this phase of your go to market process, you will:
Develop buyer personas or ideal customer profiles
Understand your buyers' Jobs to Be Done
Define your brand story and unique value proposition
Examine the competitive landscape and conduct competitive analyses
Conduct extensive SEO keyword research to guide your content efforts
Determine your initial focus and identify the appropriate channels and tactics
Set goals and define your KPIs
The next step in preparing to go to market is to begin building your unique pathway. During this phase, you'll use what you've learned from your early customers to develop a buyer's journey, identifying the touchpoints your customers go through from early awareness to consideration, and all the way to a purchase decision. You'll also need to build and refine your foundational marketing assets during this phase. This includes the development of content for your website, lead generation offers, email nurtures, demo or connection offers, and more.
At this stage, you'll want to make sure your website and other content are aligned with the right messaging for prospects at every stage of your buyer journey, and with the right next step. In other words, you'll rely on data and experimentation to ensure that every asset is doing its job—moving buyers forward in your pipeline.
Finally, once your messaging and assets are validated—meaning you have a proven, profitable, repeatable customer acquisition system—you're ready to scale your go-to-market effort with aggressive investment in sales and marketing.
By building the right foundation, the right assets, and a repeatable customer acquisition system, instead of rushing to market, you will ultimately remove guesswork, minimize risk, and set your SaaS business up for greater success—whether in the form of a capital raise or a windfall exit opportunity. This is the path to predictable ROI at scale, which is what investors care about most.
Preparing for your SaaS go to market strategy
As a growth marketing agency, Brand Theory specializes in taking SaaS brands from startup to scale-up. Our framework takes the guesswork out of creating a go-to-market strategy, with a focus on building a foundation that sets your business up for success at every stage of SaaS growth. Learn how it works by scheduling a no-pressure, one-on-one SmartGrowth Session today.
You'll get a free growth game plan customized to your goals and a clear roadmap to results. It's time to grow smarter. Take the first step now.