Hiring the right marketing agency is a major factor for driving your business growth—but just where do you start? Whether you're new to marketing, or you've had a bad experience with other agencies, you need to have complete confidence in your new partner.
That's especially true when it comes to growth marketing—a framework that goes beyond promoting products and services to help you master what really matters: customer acquisition. The right growth marketing agency will help scale your business by impacting revenue growth and profitability through a combination of customer-centric messaging, competitive positioning and data-driven strategy.
One of the best ways to choose a growth marketing agency is to ask the right questions. Their answers should provide significant insights to help you decide if they're capable of delivering the results you need, or if you're taking a big risk. That way, you can answer some questions of your own: What is growth marketing? How can I ensure it's successful? How do I implement it?
Here are essential questions to ask every growth marketing agency on your list.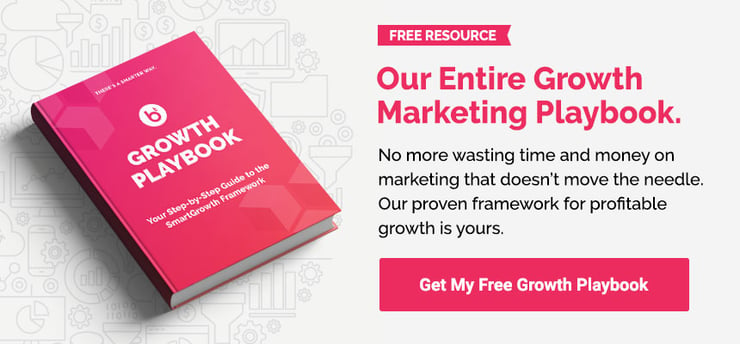 How do you build a growth marketing strategy?
Smart growth marketing starts with a well-planned strategy that identifies your buyers' pain points, brings the competitive landscape into focus, and crafts messaging that truly sets your brand apart. This strategy should also define revenue goals and the marketing assets, channels, and metrics that will be used to reach them.
What to look for in a growth marketing strategy:
Revenue goals – clearly defined targets for the next 1, 3, and 5 years.
Baseline unit economics – how many website visitors, leads and sales opportunities are currently needed to produce one customer.
Target unit economics – how many visitors, leads and sales opportunities will be needed to achieve revenue goals.
Website analytics – traffic, bounce rates, sessions per user, and more.
Growth metrics – customer acquisition cost (CAC), customer lifetime value (LTV), lead conversion rates, and more.
Keyword research for search engine optimization (SEO)
Marketing asset development – a plan to prioritize and develop website, lead generation, email and other core assets.
Conversion rate optimization (CRO) – a plan to continuously test and improve your efforts
Content strategy – a plan to consistently publish high-performing blog articles to build organic traffic and awareness.
Technology recommendations – for any CRM, CMS and marketing automation needs.
Recommended activities for the first 3-months
Timeline – a 12-week, 12-month and 12-quarter roadmap is a great place to start.
Budget – itemized costs for every marketing activity.
---
How do you set growth marketing goals?
Growth marketing goals must be directly related to revenue targets. Arbitrary sales figures and vanity metrics such as social media "likes" won't do. Instead, you'll want to rely on key performance indicators (KPIs) that report on unit economics. Organic website visits, visitor-to-lead conversions, lead-to-opportunity and similar metrics will highlight the direct impact your marketing efforts are having on customer acquisition.
When setting your growth marketing goals, use the S.M.A.R.T. goal framework:
Specific: Clearly define business goals and state how they will be achieved.
Measurable: Set goals that have a quantifiable measure of success.
Attainable: Choose realistic goals over lofty ambitions.
Relevant: Ensure that growth marketing goals relate to your business objectives.
Time-bound: Always pursue goals within a defined time frame.
---
What is the role of SEO in your growth marketing strategy?
Paid advertising is a popular online channel for quickly attracting customers, but it will only take you so far. As competition increases, so do costs. Paid ads simply aren't scalable.
Every paid strategy will eventually hit diminishing returns, with higher customer acquisition costs and lower ROI. Instead, seek out a growth marketing agency that prioritizes organic growth. A winning SEO strategy for website and blog content can create an ever-expanding presence on search engines like Google, driving a continuous flow of traffic, leads and customers … with no advertising spend.
---
What growth marketing metrics will you use to measure progress?
Smart growth marketing works by increasing the flow of buyers into and through your customer acquisition pipeline. Each step on the journey—from first website visit to new customer—is a critical "conversion point," or an opportunity to move buyers forward. The goal is to continuously improve conversion rates and, as the saying goes: "If you can't measure it, you can't improve it."
The best growth marketing agencies will focus on KPIs that measure conversion points across the entire customer acquisition pipeline. They will also have a routine process for identifying and optimizing underperforming areas, so you can prioritize marketing activities that will create the greatest impact.
The most important growth metrics are:
Awareness – organic traffic, pages per session, session duration, bounce rate
Acquisition – form submissions, CTA and landing page performance
Activation – sales calls or meetings booked, free trial sign ups
Revenue – new customers or "closed won" deals
Retention – upsells and resells to existing customers
Referral – new sales opportunities generated by existing customers
When you're constantly monitoring data across the pipeline, guesswork is removed from marketing. Customer acquisition becomes a simple mathematical equation. For example: Every 150 website visitors per month results in 20 leads, which leads to five sales opportunities, which creates one new customer.
Scaling revenue is a function of positively impacting the numbers in the formula. Growth marketing metrics will always reveal those opportunities.
---
What lead generation strategies work with growth marketing?
To be successful, a growth marketing framework must generate high quality leads. Ask how an agency defines lead criteria for its clients, what lead generation tactics are most effective, and why.
Ask what types of lead magnets have worked for businesses like yours, and how they craft messaging for their offers. You'll also want to know how other marketing activities like blog content and email campaigns drive prospects toward lead generation content.
---
Can our existing website work with growth marketing?
If your website isn't currently generating traffic, leads, or sales conversations – marketing activities won't help. A redesign or "facelift" won't either. You've got a fundamental problem that needs to be addressed before investing in any growth marketing tactics. Learn about an agency's website audit process and how they identify and solve for gaps in your online presence, and in your customer acquisition funnel.
Ask how and why a website fits into the overall growth marketing framework and the changes they would recommend.
---
What is the structure of your growth marketing team?
Ask the marketing agency about the skill, experience, and expertise of their people. One growth marketer can't do everything by themselves. A strong agency will work with a multiskilled team of specialists who are all high performers in their roles.
The structure for a growth team might include a content writer, a developer, a conversion rate optimization specialist, and a designer. As teams grow, they may benefit from a Director of Growth Marketing and other specialists.
---
Why do I need monthly growth marketing services?
Growth marketing can create an immediate impact, but its ultimate goal is to deliver exponential results. This requires a consistent, ongoing effort. Find out how a prospective agency plans to establish profitable customer acquisition, and how they will measure, improve and scale it continuously.
Will they measure quarterly growth rates and revenue attribution, or just report on lead generation? Will they run the same playbook over and over each month, or rely on data to inform an adaptive strategy?
Growth marketing isn't a set-it-and-forget-it methodology. Success will come from executing, measuring and refining a winning strategy every month.
---
What is included in your monthly growth marketing services?
Get a good understanding of exactly what you can expect from ongoing growth marketing agency services. Certain activities like blogging and reporting should be consistently carried out every month. The rest of your monthly budget should be dedicated to areas that need the most attention. This can—and should—change as often as needed, so you're always focusing time, money and resources on marketing activities that will have the greatest impact.
A good growth marketing agency will use data insights to develop a "north star" for every new quarter. If your traffic is down, an agency should focus on SEO and content. If lead conversions are down, they should consider optimizing lead magnets, forms, or Calls-to-Action. If sales opportunities aren't closing, they should concentrate on the sales process.
---
What happens if we don't get results?
Look for agencies that have a performance guarantee. Confirm that they will put in extra effort to ensure monthly or quarterly goals are met. The best growth marketing agencies will back up their promises with financial commitments to your business.
---
Put Smart Growth Marketing Theory into Practice
Marketing agencies are particularly good at marketing themselves—but, when it comes to promising results for your business, don't just take their word for it.
Ask them exactly how they plan to achieve your goals.
Look for agencies that can build a strong growth marketing strategy.
Expect a repeatable, proven methodology that reduces risk and inefficiencies.
Insist on tying every activity back to your specific marketing goals.

What does that look like? Find out by scheduling a no-pressure SmartGrowth Session and get a free plan customized for your business.