Is your SaaS ready to recruit SDRs and BDRs to join your sales team? When it's time to scale, it's time to bring in the specialists. Working together to execute your strategic plan, members of your marketing, sales and customer success teams (a.k.a. your revenue team) fuel your high-growth pipeline with leads and revenue. As you build out your team, what are some of the specific roles your SaaS may need to fill? SDRs and BDRs may be among them.
In this article, we'll introduce you to two top-of-funnel revenue team members, sales development representatives (SDRs) and business development representatives (BDRs), and explain how their roles contribute to your SaaS growth strategy.
What do SDRs and BDRs do?
SDRs and BDRs are considered junior members of a sales or revenue team. They may communicate with prospects, but are not expected to have the same level of knowledge about your product or value proposition as senior sales team members. In large organizations, SDRs and BDRs aren't responsible for closing deals or nurturing existing customer relationships. Instead, these frontline sales professionals ensure the health of your sales pipeline by sourcing and qualifying your incoming leads.

As part of their duties, an SDR or BDR may introduce someone to your brand using outbound tactics or follow up with prospects who enter your customer acquisition funnel through inbound channels. These team members generate and qualify leads using social media outreach or networking, in-person activities, building their own lead lists, researching prospects, screening leads obtained through your marketing efforts or from third parties and maintaining and updating your CRM.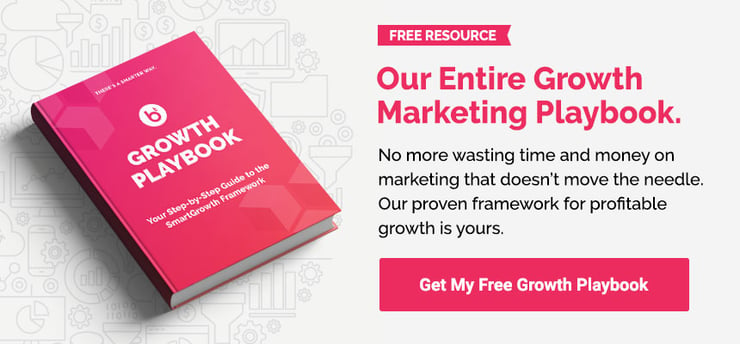 Why two titles? Is there a difference between SDRs and BDRs?
Traditionally, the division between SDRs and BDRs was drawn based on the source of the leads they manage. SDRs are inbound experts, while BDRs are outbound prospectors.
An SDR follows up with inbound contacts and evaluates their suitability as prospects. So they aren't truly in the business of lead generation but of lead qualification. BDRs, on the other hand, have to make their own opportunities. They use cold calls and emails, networking and other methods to locate potential leads and begin the nurture process. That's the way it used to be.
Today, how each organization defines its SDR and BDR roles varies. Some companies use the titles SDR and BDR interchangeably, and the job descriptions for these titles vary from one organization to another. At many organizations, SDRs or BDRs are the professionals who handle the intake or demand generation stage of your sales pipeline. However, your organization may merge the roles of SDR and BDR into a full-cycle sales representative position that manages prospects from start to finish. Complete separation of titles and tasks between SDRs and BDRs are more common in large organizations–where hyper-specialization makes strategic and economic sense.
Where do SDRs and BDRs strengths best support your customer acquisition funnel?
SDRs and BDRs are most active at the top of your customer acquisition funnel in the Awareness, Acquisition and Activation stages. This is where their communication, networking and lead evaluation skills shine. Here's how.
The customer acquisition pipeline for your SaaS begins with Awareness–telling people that you exist. While the marketing department is largely responsible for generating awareness during a brand's growth stage, a BDR conducting cold outreach or engaging in networking activities may be the first person to introduce someone to your SaaS.
After Awareness comes Acquisition–a prospective customer visits your website, fills out a contact form or otherwise makes contact. These individuals are categorized as marketing qualified leads (MQLs) because your marketing efforts have brought them into your funnel. MQLs won't all convert to customers, though. MQLs are still at the start of their buyer's journey or at the top of your funnel.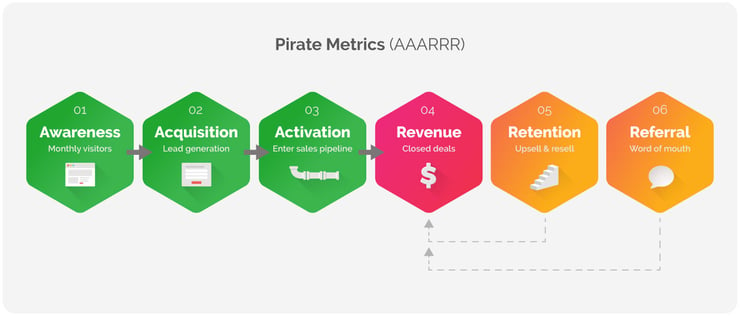 The AAARRR model (aka: "Pirate Metrics") is a full-funnel customer acquisition framework.
Once an MQL enters your funnel, an SDR takes up the baton. They manage the transition of a prospect from marketing qualified lead (MQL) to sales qualified lead (SQL), after which they may continue to work with the SQL or hand them off to a senior team member to nurture the lead to close.
An SDR or BDR may support sales by gathering additional information about the buyer or their organization to add to your CRM and conducting phone screenings or communicating with prospects via email or live chat. A BDR or SDR is often a team member responsible for booking sales appointments or scheduling demos with interested leads.
Stage three in a growth-focused acquisition pipeline is the Activation stage. This stage represents the transition of a buyer from a MQL to a sales qualified lead, or someone who is considering purchasing or subscribing to your SaaS. An inside sales representative or sales executive may enter the process at this stage, or the buyer may continue under the watch of the SDR or BDR until they become a customer.
It is more likely for a senior team member to be involved at the Activation stage for high ticket and enterprise sales. For product-led subscription models that include a freemium option, you may not need to enlist your top-level sales team to close the sale. As B2B buyers conduct more independent research, you may also see the role of SDRs and BDRs shift to nurturing these buyers at later stages in the funnel. For example, waiting for additional signals of interest instead of contacting a prospect immediately after they download a lead magnet.
When a buyer makes a purchase or moves from being a freemium user to a paying customer, they've entered the Revenue stage. At this point, an SQL becomes a customer and you are generating income from your relationship with them. Some SaaS companies reserve their senior sales team for this stage, focusing their attention on revenue-generating customers.
Stages 5 and 6 of the funnel (Retention and Referral) are the stages at which you'll deepen your customer relationships, increase the customer's lifetime value and benefit from their referrals and advocacy. Success at these stages contributes to customer acquisition and revenue for your SaaS.
Account executives, enterprise account managers, and other senior sales team members, along with your customer success team, are typically the main players at these two stages.
Your revenue team is part of a strategic program for sustainable, profitable growth
Even though SDRs and BDRs don't actively participate at every stage of the customer acquisition funnel, their performance still has an impact. Your SDR and BDR team members represent your brand in the marketplace, conveying your values and value proposition.
Their diligence in identifying and scoring leads affects the quantity and quality of the buyers entering your pipeline, which in turn affects the speed and efficiency of your revenue pipeline.
SDRs and BDRs are a unique and invaluable source of data about your prospect and the performance of your marketing campaigns. Use this data to refine and continually improve your customer acquisition processes.

Support all the members of your revenue team with a high-growth marketing strategy laser-focused on achieving your business objectives. How? Book a one-on-one SmartGrowth Session with Brand Theory today.
In 30-minutes you'll discover how to build a systematic, profitable growth marketing engine for your SaaS, and you'll leave with a free growth game plan. It's time to scale. Take the first step now.