In recent years, the marketing landscape has become saturated with trendy buzzwords, gurus and new methodologies that all promise to help "grow your business."
As the name suggests, "growth marketing" fits squarely within this domain, but with good reason. It's a practice designed to drive revenue growth by optimizing the entire customer acquisition funnel with data-driven precision. Who wouldn't want that?
Like any approach to marketing, however, the quality of the results will depend on the quality of the execution. Smart growth marketing is about putting all of the right pieces in place to guarantee success, instead of just hoping for it.
The three keys to smart growth marketing are:
People: A team with the right growth marketing skillset.
Process: Planning, building, and scaling in the right order.
Platform: Identifying and implementing right-fit technology.
In this article, you'll learn how to put these 3 keys together, so you can plan and execute a smart growth marketing strategy that eliminates guesswork and puts your business on a clear path to predictable revenue growth.
---
What is Growth Marketing?
The simplest definition of growth marketing is:
Growth marketing helps businesses scale profitably.
It's important to note that "growth" and "scaling profitably" are not the same thing. That's the beauty of growth marketing. It takes a holistic view of the entire marketing and sales funnel, making sure every tactic, at every stage, is contributing to profitable growth.
More website traffic. More leads. More customers. They are all nice to have, but don't necessarily translate into profitable growth.
Smart growth marketing drives profitable growth in several ways, including:
A growth marketing strategy based on profitable unit economics.
High-performing conversion points and offers throughout the buyer journey.
The right growth metrics to track progress at every step.
This is why growth marketing is so powerful—it begins with clearly defined revenue goals, maps a mathematical path to achieving them and builds the strategy required to make it happen.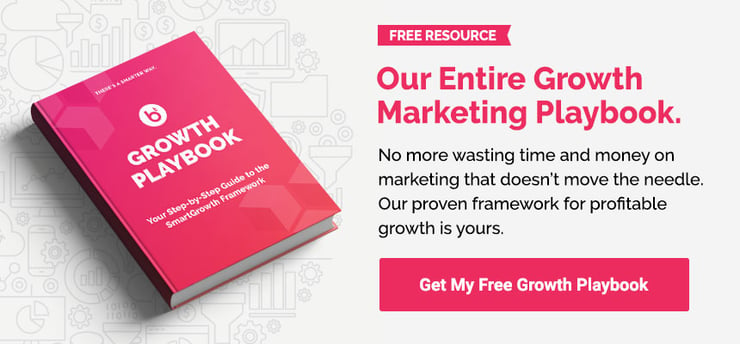 Step 1: People—Hiring the Right Growth Marketing Team
Implementing smart growth marketing starts by building or hiring the right team. The growth marketing framework relies on deep experience across several related disciplines:
Strong growth strategies that drive customer development.

Content creation

and copywriting to build search-optimized marketing assets.
Proven lead generation through multiple channels including organic search, PPC, email marketing, social media, and others.
Customer-centric website design and development.
ROI-driven sales enablement and conversion rate optimization.
Marketing automation and technology.
Despite what many individual consultants, growth hackers, or "experts" will claim, one person cannot do it all! You need a multi-disciplined growth marketing team that can optimize for every tactic and channel.
The structure for a growth team might include a content writer, a developer, a conversion rate optimization specialist, and a designer. As teams grow, they may benefit from a Director of Growth Marketing and other specialists.
Building an in-house marketing team is expensive and resource-intensive. An outsourced growth marketing team can be a great alternative, providing all of the expertise you need on a flexible basis.
---
Step 2: Process—Planning, Building, and Scaling a Smart Growth Marketing Strategy
Smart growth marketing means doing the right things, in the right order. Skipping steps is tempting when you're trying to accelerate growth, but as too many businesses find out the hard way – scaling prematurely is a recipe for failure.
Think of your growth strategy as the blueprint for a powerful growth engine. Think of your website and marketing assets as the engine. Think of your ongoing marketing activities as the fuel. All the fuel in the world won't get you anywhere without the right engine and the right blueprint.

We call this process: Plan, Build and Scale.
Plan: Developing Your Growth Marketing Strategy
Planning is essential to successfully position your business in the market. Define what your customers need, what your business can offer, and how to bring those two areas together. It includes:
Customer development to identify your core audience, the information they need, and the problems they are trying to solve.
Message-market fit to create competitive positioning that sets your solution apart.
A buyer journey that defines the steps your buyers will take in the customer acquisition pipeline.
Build: Creating the Right Growth Marketing Assets
The purpose of a website, lead magnets, email campaigns and other marketing assets is to move buyers into and through your customer acquisition pipeline. They each have dedicated roles to play in a carefully choreographed system that engages buyers at every stage of the pipeline with the right message and a compelling next step.
The first steps to creating high-performing growth marketing assets are:
Documenting the entire marketing and sales process.
Identifying the key conversion points in the process.
Articulating the right message for every conversion point.
With those essential steps complete, you'll be ready to create assets that are fully aligned with your growth marketing strategy. They might include:
Website development
Blog content
Pillar pages
Lead magnets
Landing pages
Calls-to-action (CTA)
Email campaigns
Lead generation forms
Social media engagement
Videos
And more
Launching a new website or any other growth marketing asset isn't the end of your effort. It's just the beginning. Now you're ready to measure, test and improve performance … continuously. In other words, you're ready to scale.
Scale: Optimizing Performance for Repeatable Results
If this looks like a very deliberate, measured approach to marketing, then that's by design. Once you've developed a growth plan and built the right assets, producing repeatable results is really just a numbers game.
Before scaling up, you need three key things:
A documented customer acquisition pipeline.
The right marketing assets for every step.
Growth marketing metrics that measure key performance indicators (KPIs).
To scale profitable customer acquisition, you'll need to answer basic questions like:
How many website visitors does it take to generate one lead?
How many leads do I need to generate one sales opportunity?
How many sales opportunities are required to produce one new customer?
What is my customer acquisition cost (CAC)?
What is the lifetime value (LTV) of a customer?
Data like this is essential to profitable growth. When you can tie every marketing and sales activity to a measurable result on your pipeline, you can pinpoint the areas that need attention and focus on high-impact improvements. The process of scaling is all about the compounding results of making those data-driven improvements on a continuous basis.
---
Step 3: Platform—Leveraging Smart Growth Marketing Technology
Smart growth marketers use technology to streamline everything they do. The best growth marketing software puts customer data, website data and marketing data all in one place.
Website visitors, leads, sales prospects and customers are all moving through your pipeline. Tracking their activities across multiple software tools adds layers of inefficiency and can easily skew data.
The best growth marketing software platforms will:
Track the activities of every lead, prospect and customer in your CRM database.
Host all marketing assets - website, blog, emails, lead magnets, social media, etc.
Automate marketing activities to create a highly-personalized buyer journey.
Measure & report key performance indicators across every channel.
Calculate clear and accurate ROI.
Add more capabilities as you grow, so you only pay for what you need.
All marketing software promises to skyrocket your business to success, but most amount to a single tool with limited scope. You're going to need several tools – along with accurate data and an efficient workflow – so patching them all together isn't a great option. Set your business up for success with a single platform that does it all.
Whether you're considering a growth marketing agency or building an in-house team, the best marketing platform for your business will deliver the right combination of price, functionality, ease of use, and scalability.
---
Take the Guesswork Out of Marketing
With smart growth marketing, your business can get on a clear path to profitable, repeatable customer acquisition. A data-driven approach that doesn't skip critical steps, it's designed to take the guesswork out of growth.
Resist the urge to dive right into a new website or marketing tactics. Avoid the trap of agencies or consultants selling a monthly menu of services. Instead, implement a systematic approach to growth that targets your revenue goals by scaling profitable customer acquisition.

Need help getting started with a smart growth marketing strategy? Your best option may be a SmartGrowth Session with Brand Theory. Let's have a 30-minute, no-pressure conversation about your growth goals and develop a free plan that your business can put into practice right away.